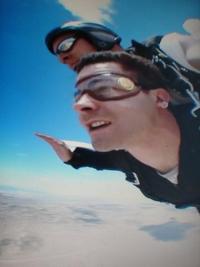 If this guy (yes, that's me) told you to jump out of a plane, would you do it? … Probably not, at least not without getting more information first. The same concept applies here. You should NOT act upon any information provided on this site without first seeking advice from a lawyer licensed in your own state or jurisdiction (see what I did there?).
There are a few other points I should also spell out and I apologize in advance for the legalese (but hey I am an attorney after all):
BY USING THIS BLOG SITE YOU ACKNOWLEDGE AND UNDERSTAND THAT:
The information and materials on this Blog are provided for general informational purposes

ONLY

and are not intended to be legal advice. Being general in nature, the information and materials provided may not apply to any specific factual and/or legal set of circumstances and this Blog should

NOT

be used as a substitute for competent legal advice from a licensed professional attorney in your jurisdiction.
There is

NO

attorney client relationship between you and ANTHONY J ZEOLI (the "Blog author") nor should any such relationship be implied or inferred, and your use of any information provided in this Blog is at your own risk.
The law changes frequently and varies from jurisdiction to jurisdiction. As a result the materials presented in this Blog may not reflect the most current legal developments and/or may not apply in your particular jurisdiction. Further, neither the Blog author nor any other person, shall be required, in any way, to update any information presented in this Blog as changes or other legal developments occur.
Neither the Blog author nor any other person or entity (including without limitation, any law firm with whom which the Blog author is working through or with) shall be responsible, and by use of this Blog you hereby hold the same harmless, for any errors or omissions in the content of this site and/or for damages arising from the use or performance of this site, however the same shall occur and under any circumstances.
This Blog (including the materials and other information herein) may be changed, improved, or updated from time to time, or the Blog may be shut down, at the option of the Blog author and without notice to anyone.
Unless otherwise specifically noted herein, the Blog author is, and shall be, the copyright holder of all material on this Blog and no other person or entity shall use, reprint or publish any such material without the prior consent of the Blog author.
Whew, now that we got that out of the way…. on to more interesting stuff…