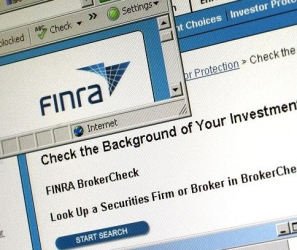 Early last week the Financial Industry Regulatory Authority (FINRA) rolled out a multi-million dollar ad campaign promoting its online research tool called "BrokerCheck." BrokerCheck is free online database intended to provide the investing public with an east way to research brokers and investment advisers before working with them. The timing of the ad campaign is no coincidence however, coming right on the heels of FINRA's new proposal to the SEC to make use of a BrokerCheck hyperlink mandatory for all brokers and investment advisers. Questions have arisen as to the actual usefulness and completeness of the information provided on BrokerCheck. Many critics believe that BrokerCheck database, while well intended, does not currently provide all of the information investors need.
Federal and state securities laws generally require that any person or firm selling securities to the public, or advising members of the public as to investment decisions, must be licensed, registered and in good standing with the appropriate regulatory agencies. In the past there really was not an easy way to verify whether a person or firm was adequately licensed. To the extent you could even get this information (or even figure out where to get it), it would typically require reviewing multiple federal or state online databases and/or talking to one or more representatives. Often an extremely tedious task, take it from me. Couple this with the fact that most investors don't even realize they should verify the credentials of a broker before handing over their investment dollars and you can see the impetus for creating and promoting the BrokerCheck database. For a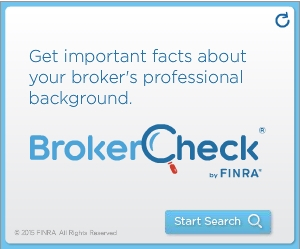 general description of the type of information an investor can obtain about a broker/firm through BrokerCheck, see the informational post "Using BrokerCheck" on the SEC's Investor.gov website.
To highlight the importance of investors researching potential brokers and advisers, FINRA hired an independent marketing agency, Ogilvy & Mather, to produce a series of 15 second spots and print ads showing examples of people acting without doing the appropriate research (I personally like the "Gorilla Arms" spot). As FINRA chairman and CEO Richard Ketchum stated in a recent interview: "People immediately go online to check out a new restaurant where they might spend $25 for a meal, but don't think to use BrokerCheck when they're handing over $2,500 — or $25,000 of their life's savings or even more — to an investment professional to invest. That has to change, and we hope this campaign will help." FINRA intends to run the 15 second spots for the next five weeks through both digital and TV outlets including CNBC, Bloomberg, CNN, MSNBC, Fox Business, Fox News, ESPN, Discovery, The History Channel and HGTV. They also intend to run a series of print ads in The Wall Street Journal and digitally though many financial news websites (including on Bloomberg, CNBC, Fortune, Reuters, TubeMogul and the Undertone Network, among others).
It didn't go unnoticed that FINRA's ad campaign came just days after it filed a revised rule proposal with the SEC to amend FINRA Rule 2210. The proposed rule change would require (among other things) brokers and investment advisers to include a reference and hyperlink to BrokerCheck on: (a) the initial webpage that is intended to be viewed by retail investors; and (2) each other webpage containing a professional profile of any registered person who conducts business with retail investors. The comment period for the current proposed rule change ends on July 2 so it's still too early to tell what level of opposition (if any) there will be.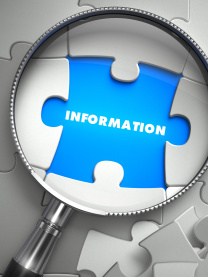 While well intended, the BrokerCheck database is certainly not without its critics. The majority of critics take issue with the completeness of information provided on the site. Per statements from multiple industry professionals, missing information includes: certain records that brokers have successfully had expunged, information on brokers' previous bankruptcy filings, and internal firm investigations. In a recent interview, Benjamin Edwards, director of the Investor Advocacy Clinic at the Michigan State University College of Law, echoed the feelings of many critics by saying "[t]his [additional] information is material for investors … While BrokerCheck is a great resource, it doesn't tell investors everything they should be able to know." In response to claims like that of Mr. Edwards and other critics, FINRA CEO Richard Ketchum has stated that FINRA continues to review the records of its entire broker database and that, to date, only a small fraction of records have turned up with missing information.
I can see the critics' point of view but I believe that they have to look at the use of BrokerCheck in context. The database is not perfect and may have some missing information but using BrokerCheck is clearly the lesser of evils. Sure, critics are right and an investor could find all of the information they need assuming they know where to look and have the time and patience (a LOT of patience) to wade through various state and federal databases and to converse with agents. That being said, who is actually going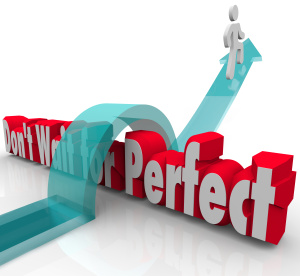 to do this? That's the real point. Imperfect or not, BrokerCheck makes it easier for investors to at least find some information on potential brokers and advisers which is more then then they readily had access to in the past. Some information is always better than none and that in itself HAS to be beneficial. In my opinion, if FINRA can encourage even a fraction of investors to use their BrokerCheck database to research brokers and advisers before hiring them it will be a significant improvement.