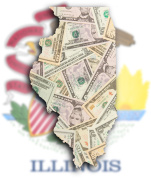 While it took longer than expected to get here, Crowdfunding for Illinois businesses is now officially up and running and its full steam ahead. To mark the occasion, a joint press conference was held Tuesday at local incubator 1871 which I was privileged to be a part of. The true highlight of the conference however was the introduction of the three local companies now raising funds through Illinois crowdfunding.
Background.
As a little background, the Illinois intrastate crowdfunding law (815 ILCS 5/4(T)) allows Illinois businesses to raise up to $4 million, per year, from Illinois investors (whether accredited or non-accredited) through debt or equity offerings. This is one of the highest intrastate crowdfunding allowances in the country and well higher than the federal cap of $1 million. While Illinois intrastate crowdfunding officially became law in January of last year, it took well over 10 months to work through the administrative realities of actually conducting offerings (including the finalization of the related administrative rules by the Illinois Secretary of State). As a result, what appeared to many to be a complete lack of use of this new law in 2016 was simply a delay in the ability to actually use it; followed of course by the election and holiday season. That is all behind us now however and Illinois crowdfunding is coming out strong in 2017.
The Conference.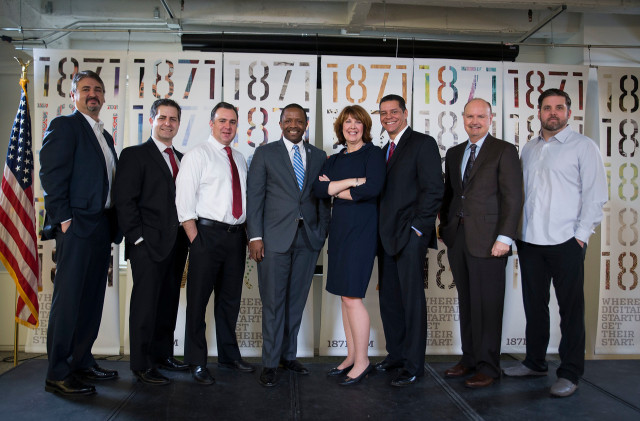 A press conference was held Tuesday at local incubator 1871 to officially announce that Illinois crowdfunding is up and running. The conference was co-hosted by the Illinois Small Business Advocacy Council (SBAC), the advocacy group behind the legislation, VestLo.com, the first Illinois crowdfunding portal, 1871, and my firm Freeborn & Peters LLP. Conference speakers included Representative Carol Sente, Elliot Richardson of the SBAC, myself (of course) and Howard Tullman CEO of 1871. As the initial speaker, Tullman expressed his excitement about VestLo and Illinois crowdfunding in general, as well the potential they hold for Illinois businesses:
"It is exciting to see VestLo become a leader in investment crowdfunding in Illinois. We believe new models for investment in local businesses benefits the entire community. For VestLo to provide a platform by which a community can support and take ownership of local businesses is both exciting and a disruptive new way of thinking about investment." 
While each of the speakers was great (present company included of course), the real highlight of the conference was the introduction of the three local businesses now conducting offerings through VestLo. These initial offerings clearly illustrate the variety of companies that can use the new Illinois intrastate crowdfunding law as well as the types of offerings that can be conducted. Here is a little bit about each of the companies and their respective offerings: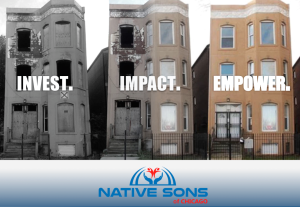 Native Sons of Chicago brands itself as an "impact" company. Under the slogan "Invest. Impact. Empower.," Native Sons intends to specialize in the rehabilitation of real estate in, and the rejuvenation of, economically challenged communities within the Chicago Metropolitan area. Beyond purely seeking to redevelop real estate in such communities, Native Sons intends to help empower those communities by hiring and training local residents as much as possible.  A view of their vision, and the potential impact to the target communities, is shown in their general (i.e. non-financial) pitch deck.
Native Sons is a new entity looking for initial operating capital. Without going into detail, they are conducting a $500k equity crowdfunding offering for the purposes of funding their initial real estate acquisitions/redevelopments. As with all Illinois intrastate offerings, the Native Sons' offering is open only to Illinois residents. For more details, see their offering page on VestLo.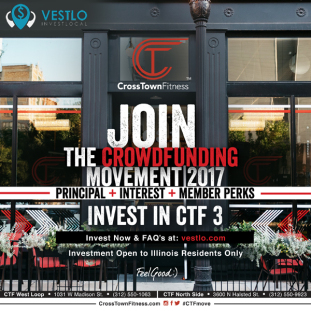 CrossTown Fitness is a popular, and fast growing, boutique fitness center located in Chicago. With a focus on innovate workout methods and the fostering of a member based community that inspires and supports each other, CrossTown Fitness has truly become a stand-out fitness provider in Chicago over its last 4 years in operation. With 2 current locations, CrossTown is conducting a $500k debt crowdfunding offering for the purposes of funding a new 3rd location. CrossTown is even offering certain reward perks for investors.
As a thriving enterprise, CrossTown had other options for funding of its new proposed location but chose instead to utilize Illinois crowdfunding to seek to raise those funds. As Charlie Graff, principal of CrossTown Fitness, said during the conference "crowdfunding is something I wanted to do before there was the ability to do it so when I was made aware this law existed I was thrilled. We are extremely excited to offer our members the ability to invest in our company." What was also noteworthy in Charlie's remarks was the fact that more than 20 new, sustainable, local jobs will be created by the development and operation of CrossTown's new location.
Again the offering is open only to Illinois residents. For more details, see their offering page on VestLo.
Cardfrenzy is a boutique card and gift retailer with 3 thriving retail stores in the Chicago and surrounding markets. Started by a group of industry professionals, the focus of the Cardfrenzy brand is on offering a large selection of high quality greeting cards at value pricing. The greeting card offerings are also complimented by a selection of trendy gifts and fashion products.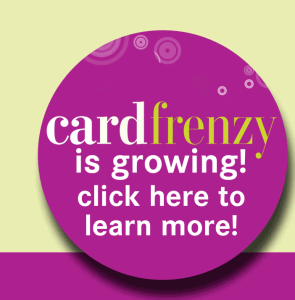 With over 7 years of operation experience, Cardfrenzy is looking to expand. Unlike CrossTown however, Cardfrenzy is not looking to open another location but instead establish a franchise operation for its brand. Rather than seeking traditional funding, Cardfrenzy is turning to Illinois crowdfunding to raise the necessary funds. As Gary Rada, C.E.O. of Cardfrenzy, stated during the conference: "we are thrilled to be able to open up this investment opportunity to our loyal customers and fiends and to allow them to grow along with us."
Cardfrenzy, the first company to actually use Illinois crowdfunding, is conducting a $500k equity crowdfunding offering. They will also give investors certain discounts on store products. Again the offering is open only to Illinois residents and for more details see their offering page on VestLo.
Just The Beginning.
As the author of the Illinois intrastate crowdfunding law I cannot express how thrilled I am to see it finally being used. I am even more humbled by the types of companies seeking to use it. These are real Illinois businesses, most of which had other financing options available, and they will create real jobs here in the state. Just as important they are allowing Illinois residents the ability to invest locally with the potential for real returns. This is what the Illinois crowdfunding law has always been about; providing Illinois businesses with the opportunity to raise money from local residents, in turn helping to spark the Illinois economy and create jobs throughout the state.
While this is truly a monumental step, these are only the first offerings and there are already several others on deck. That being said, the real challenge now is getting the word out to Illinois residents and businesses that this new opportunity exists.  I cannot do it alone so if you are reading this I implore you to pass the word along…