It is clear that peer-to-peer (P2P) lending is here to stay but long gone are the days of actual "peers" lending to "peers." Today Wall Street firms, hedge funds and other "big money investors", make up the overwhelming bulk of the funds being lent through P2P lending platforms thus the migration to the label "marketplace lending". This trend is only getting stronger as these big money investors are seemingly tripping over themselves just to throw money at the P2P platforms in hopes of grabbing a piece of (what some estimate will be) the $1 Trillion dollar P2P pie….
Peer-to-peer lending originated as a niche alternative source of financing which used the internet to connect individuals, looking to borrow small amounts of money, with other individuals willing to lend them such funds. Over the last couple years however, attracted by the growing popularity and higher than average potential returns, big money investors have plowed tons of available borrowing dollars into the industry and have essentially muscled out most of the "individual" money lenders. With this significant influx of capital the average size and availability of P2P loans has increased significantly over the last 3-5 years. As the popularity of P2P lending continues to grow in an almost juggernaut like manner, existing and new P2P lending platforms are branching out into other specialized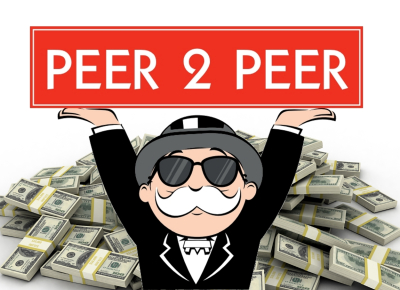 lending markets and subsectors such as student loans, commercial lending, real-estate lending, and even franchise lending.
Exactly when big money investors first started taking serious notice of the monstrous potential of the P2P lending industry is anyone's guess. It is clear however that today, most likely fueled by the recent successful I.P.Os. of two of the oldest P2P lending platforms LendingClub (NYSE: LC) and OnDeck (NYSE: ONDK)) last year, the investment race is on and big money investors are running to get in on the ground floor of just about anything P2P lending related. This is evident by the flurry of recently publicized direct and indirect investments made by big money investors. Some of the more notable of these recent transactions include the following (in order of announcement):

(April 14, 2015) – LendKey is a P2P lending platform focused on providing new student loans and refinancing existing student loans. In a press release posted on April 14th, LendKey announced that it has secured a financing commitment of $1 Billion (yes with a "B") from MidCap Financial (a leading specialty finance firm that is managed by a subsidiary of Apollo Global Management, LLC (NYSE: APO)) to fund future loan commitments and expand its services.

(April 14, 2015) – LendingHome is a P2P lending platform specializing in providing short-term bridge loans to homeowners who want to flip/improve a property, etc. In its recent press release it was announced that LendingHome raised $70 million in "Series C" funding to help the company expand nationally. The funding round was led by Chinese social networking company Renren Inc.

(April 10, 2015) – Patch Of Land is a P2P lending platform specializing in high-yield, short-term, asset-collateralized, real estate based investments. In a press release made late last week it was announced that Patch of Land raised $23.6 Million in an oversubscribed "Series A" round, led by SF Capital Group (a private investment firm focused on direct equity and debt investments in the financial technology space) and Ron Suber (President of Prosper).

(April 9, 2015) – Apple Pie Capital is a specialized P2P lending platform focusing on the niche franchise industry (similar to Crowdfranchise). In a recent press release it was announced that ApplePie Capital raised $6 Million in a "Series A" round led by Signia Venture Partners (an investment company that supports entrepreneurs in mobile, gaming, online video, and education technology) and Ron Suber. It was also announced that ApplePie Capital raised more than $28 million in debt capital commitments from big money investors to fund future franchise loans.

(April 9, 2015) – PeerIq is actually not a P2P lending platform but rather a BRAND NEW financial information services start-up focused on providing information to P2P big money investors to help them analyze, access and manage investment risk. In a recent press release it was announced that PeerIQ raised $6 million of seed funding led by Uprising (a venture capital firm) and John Mack (former chairman and CEO of Morgan Stanley).

(April 8, 2015) – Prosper is one of the oldest traditional P2P lending platforms (even older than Lending Club and OnDeck). According to its press release last week, Prosper just closed a $165 Million Series D Financing Led by Credit Suisse NEXT Investors (a private equity arm of Credit Suisse).

(April 7, 2015) – RealtyShares is a P2P lending/crowdfunding platform that offers high-yield, short-term "fix and flip" types of loans and investments. In its recent press release it was announced that RealtyShares raised $10 million in a "Series A" round led by Menlo Ventures (a venture capital firm providing capital for seed through growth technology companies in the consumer and other sectors).
Now let's just put these investments in perspective for a moment. Each of the above investments was made in the month of April and we are barely past the middle of the month! If that doesn't show the growing popularity of these types of investments among big money investors I don't know what will. What is certain is that this is only the beginning.
Last year alone, more than $8.9 Billion in loans were made through P2P lending platforms and more than $1.32 Billion in venture capital money was invested in these platforms (see Infographic from RealtyShares below). With these numbers it is no wonder why you are seeing such a flurry of big money investments in P2P lending platforms and related services. Moreover, given that the popularity (and number of) P2P platforms is growing exponentially, and the fact that most analysts predict that the industry will grow to over $500 Billion in the next decade (with some pegging the number at $1 Trillion), this investment trend shows no signs of slowing in the foreseeable future.