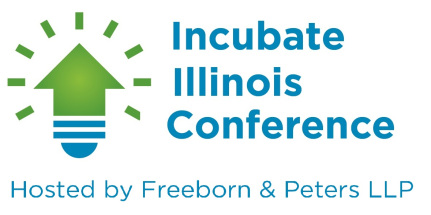 As many of you know, I do a lot of speaking engagements through Illinois pitching the new Illinois crowdfunding laws and advising small and emerging  Illinois businesses about all of the new types of available funding options. In doing these speaking engagements, I recently realized that there wasn't a single conference in Illinois that was tailored toward bringing incubators/accelerators, VC/angel investors, and emerging businesses together. So, being the type of person I am, I decided to create one … oh, and its FREE to attend!
My firm, Freeborn & Peters will be hosting the inaugural "Incubate Illinois Conference" on Wednesday, June 15th from 8:30 a.m. – 11:30 a.m. at the 311 Conference Center at 311 South Wacker Drive, Chicago, Illinois 60606.
To register, please click HERE.
Registration is FREE but seats are limited!
This conference will bring incubated companies, start-ups, incubators, accelerators and VCs together to learn about the growing Incubator/Accelerator movement here in Illinois and all of the new Illinois programs designed to help and foster Illinois businesses. The conference will feature several well-known speakers and panel members ranging from local incubator and start-up representatives to government officials.
Among the noted participants will be:
Deputy Illinois Treasurer Jay Rowell who will discuss new $220 MM tech fund for emerging local technology companies;
Jim Schultz, head of the new Economic Development Corporation, who will discuss new small business centered programs/initiatives;
Elliot Richardson of the Illinois Small Business Advocacy Council (SBAC) who will discuss new bill to extend and revise the Illinois Angel Investment Credit Program;
Hector Robles (of VestLo), Len Batterson (of Vcapital) and ME as part of a panel discussing crowdfunding and other new financing options for Illinois businesses
Todd Connor (of Bunker Labs) and Jessica Droste Yagan (of Impact Engine) as part of a panel discussing the growing Illinois Incubation/Acceleration Movement;
 Steve Gaither  (of JB Chicago) and Freeborn's own Andy Goldstein as part of a panel discussing brand management and intellectual property essentials;
So come hear from the industry insiders above or simply to network with local start-ups, incubators, accelerators and VCs. I hope to see you there!