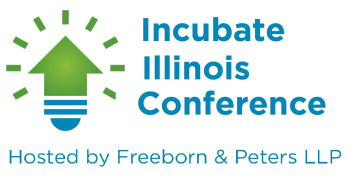 Last year we started the "Incubate Illinois Conference" which was designed to bring together Midwest incubators/ accelerators, VC/angel investors, and emerging businesses. The conference was a huge success and we are doing it again, only this time it promises to be bigger and better!!!
Freeborn's Second Annual Incubate Illinois Conference will be held on July 12, in the mezzanine conference space at the firm's Chicago office at 311 South Wacker Drive, starting at 1 P.M. While the conference will address the needs of entrepreneurs, investors and incubators across many different sectors, this year's event will have a particular focus on the tech industry – in particular financial tech or "Fintech." There will be a$50 fee to attend:
To register, please click HERE.
Seats are filling up fast so register soon!
33% Early Registration Discount if you register before July 5th; Use code "

EARLYBIRD

"
Who Should Attend?
This conference is going to be extremely informative in general. That being said, it should absolutely NOT be missed by:
— any new or existing Illinois' tech business looking for funding, in particular those focused on financial technology" (including online lending, mobile payments, etc.);
-any VC firm, PE firm, Family Office or other investor looking to invest in such companies, in particular those interested in learning how to get investment money from Illinois' new tech investment fund; and
— anyone else who wants to learn more about the growing tech focus here in Illinois.
Event Schedule:

Here are the event's scheduled presentations:
Introductory Keynote on "The Future of Chicago Startups, Incubators, and Growth," presented by Fred Hoch, Executive Chairman, ITA and Founder and General Partner, TechNexus Venture Collaborative. 
Mr. Hoch will share his vision for the future of incubators across Chicagoland and beyond. Mr. Hoch also is co-founder of the TechNexus incubator, a venture collaborative of entrepreneurs, investors, and industry leaders, which has advised and mentored more than 450 enterprise-focused ventures that have attracted in excess of $400 million in capital.
Panel Discussion on "The Midwest Fintech Revolution"
There are currently over 1,000 Fintech companies (startups and established companies) operating across the U.S., Europe, and the Asia-Pacific region which, together, represent over $105 billion in total funding and nearly $870 billion in estimated current value. According to recent industry studies, Chicago has established itself as global competitor in Fintech innovation, ranking #4 of 44 global Fintech hubs and out ranking other global participants such as Shanghai, Hong Kong, Paris and Zurich. Representatives of some of Chicago's top FinTech-specific incubators will discuss what they are doing and how they are helping to make Chicago the epicenter of FinTech activity in the Midwest.
Panel Discussion on "Illinois' $220 Million Growth and Innovation Fund (ILGIF) and How You Can Participate"
Representatives from 50 South Capital and participating local investment funds will explain the ins and outs of the ILGIF, which was announced in January 2016 with more than $220 million in committed capital and the goal of investing in technology businesses seeking to locate, expand or remain in Illinois. The presentation is geared to help VC firms, investment funds and local technology based companies learn how they may be able to receive funds from the ILGIF.
Panel Discussion on "Chicago Early Stage Company Founders: 'Bridging the Gap between Idea and Reality'
Four early stage entrepreneurs will share the secrets of their success and describe the many pitfalls of entrepreneurialism and how they have overcome them.
Closing Keynote on "Next Steps for Chicago and Illinois," presented by Scott Kitun, CEO and host of Technori
Scott will also be doing live webcast interviews with panelists and participants during the conference.
Networking Reception, Powered by Proxfinity