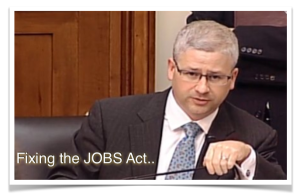 U.S. Congressman Patrick McHenry took some bold steps last week as he introduced three discussion drafts of bills aimed to remedy what he believes to be the current major impediments in the JOBS Act. The bill that took center stage in the crowdfunding world however was "the Equity Crowdfunding Improvement Act of 2014" proposed by Congressman McHenry.
In response to growing concerns over the SEC's ability to release workable crowdfunding rules necessary to bring Title III of the JOBS Act to life, Congressman McHenry is proposing to scrub Title III all together and replace it with, what he believes, to be more workable and realistic legislation for regulating equity crowdfunding. This proposed bill makes some significant changes (and in my opinion improvements) to the current legislation and, if passed, would truly open up the U.S. equity crowdfunding in ways currently only seen in other countries
Here are some of the highlights of the changes Congressman McHenry's bill proposes:
The bill raises the maximum crowdfunding offering from $1 million to as much as $5 million (subject also to further adjustment based on future changes in the CPO). A $1 million dollar funding cap "is significantly too low for many of the early-stage, high-growth firms that have the greatest potential to create jobs and investor returns" said Jeff Lynn, Chief Executive Officer of Seedrs Limited, in his written testimony.
The bill would allow for significantly easier financial disclosures on the part of issuers, requiring "self certified" financial statements for capital raises under $500,000, "independently reviewed" financial statements for raises between $500,000 and $3 million, with audited financials being required only for capital raises above $3 million.
The bill eliminates both, the requirement that the SEC promulgate additional rules requiring detailed, registration statement-like disclosures, etc. and the need for ongoing annual reporting in perpetuity. This change also significantly reduces the ongoing reporting requirements of the issuer.
The bill allows non-broker-dealer intermediaries (funding portals) to register only with the SEC, thus avoiding the additional required registration with FINRA and the related compliance with its additional rules.
The bill allows intermediaries to have more control over screening out offerings and/or terminating offerings without being deemed to be offering financial or investment advice. In my opinion this is a great leap forward as it allows these intermediaries to be able to develop standards which will raise the reputability of the intermediary and the offerings conducted through such intermediary.
While the passage of this proposed bill is far from a given, Congressman McHenry has gained some big support already. Jeff Lynn, in his written testimony to the Subcommittee, offered glowing support for this proposed bill. Similarly, fellow Congressman David Schweikert was quoted as saying that there is not a better "pilot" to navigate the choppy Congressional waters than Congressman McHenry.
This proposed bill and the other two discussion bills proposed by Congressman McHenry (including the proposed "the Startup Capital Modernization Act of 2014" which seeks to reform and improve the legislation regarding Regulation A securities offerings) represent significant steps toward making crowdfunding a functional reality.