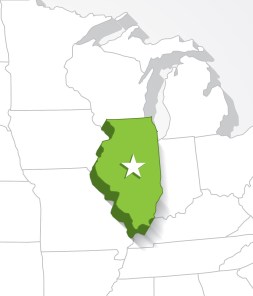 One of the questions I get asked most often is "how does the new Illinois crowdfunding exemption compare to the available Federal level crowdfunding options?" I love getting this question as it gives me a chance to really show why the new Illinois crowdfunding exemption is such a workable option. However, given the many subtle nuances between the various options it's often hard for people to visualize exactly where the similarities and differences really are. To make this visualization easier, I decided to create a handy-dandy comparative summary chart …. wasn't that nice of me?
DISCLAIMER: Nothing in this post is, or is intended to be, legal advice. The information herein is provided for informational purposes

ONLY

 

and

YOU SHOULD CONSULT WITH YOUR ATTORNEY

before using any of this information. Further, I make

NO REPRESENTATION OR WARRANTY

as to the accuracy or use of any of information contained in this post and I have

NO DUTY

to update any of the information below
Now that we have that out of the way, for your enjoyment here is a summary chart comparing the main provisions related to private securities offerings made under:
Rule 506(b);
Rule 506(c) (a.k.a. "Title II");
Regulation A - Tier 1 (a.k.a. "Title IV" or "Regulation A+");
Regulation A - Tier 2 (a.k.a. "Title IV" or "Regulation A+");
Retail Crowdfunding (a.k.a. "Title III"); and
The Illinois Intrastate Crowdfunding Exemption (a.k.a. "the best intrastate exemption ever" … ok, so maybe that's just what I call it)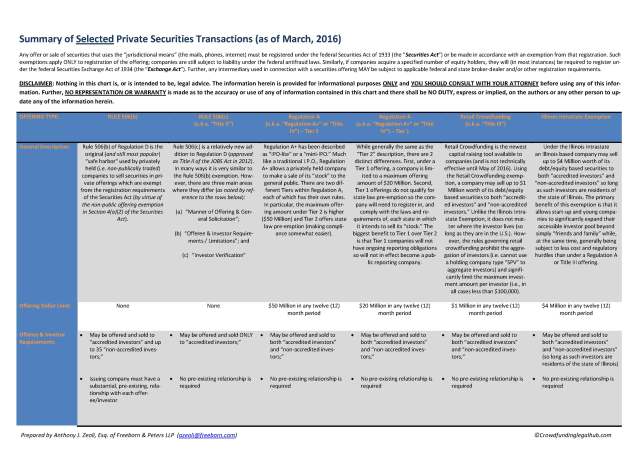 FYI, if you want to see how the Illinois Intrastate Crowdfunding Exemption compares to the intrastate exemptions of other states, click HERE.